Two Things I am Grateful For:
1) I am grateful for all the "gifts" in my life. I would be remiss if I did not express the gratitude that I've felt this past few days for the tender mercies shown in my life! Things have literally fallen into place in every way....time-wise, emotionally, and many many other ways! It's been a great month and I've felt a watchful eye from above immensely. How blessed my little world is!
2) My Relief Society Gift! I received this.....
With this little note tucked in with the key, to tell you what to do with the key.
Then on the outside of the package was this story.
I LOVE IT!!!! It's the little things that make me happy. :)
Thank you Relief Society!
From the Camera:
Kevin's Aunt and Uncle use to decorate their front yard with a wooden outhouse and Santa and his reindeer on top, just like this comic. It was awesome! I have no idea what happened to that little outhouse these days, but we miss driving by their home and seeing it every year.
From the Craft Room & Other Things I Love:
Cute idea for an advent calendar...instead of filling it with candy. Fill it with things to do as a family. Love it!
From the Heart & Spirit:
From the Kitchen:
22 Oreo Cookies
3 tbsp melted Butter
1 tbsp Sugar
16 oz softened Cream Cheese
16 oz Heavy Cream
1 cup Sugar
1/4 cup Powdered Sugar
1 tsp Peppermint Extract
6 drops Pink Food Coloring
DIRECTIONS
Crush Oreos in food processor and add melted butter and sugar.
Press mixture into bottom and partway up sides of spring form pan.
Refrigerate at least 30 minutes to firm.
Beat cream cheese and sugar until well mixed. Set aside.
Whip heavy cream and powder sugar until stiff peaks form.
Fold and blend cream cheese mixture into whipped cream mixture.
Add food coloring and peppermint into filling mixture.
Pour/spread into pan.
Refrigerate for at least 4 hours or until firm.
You can garnish with dollops of whipped topping and crushed peppermints if desired.
From the Schmidt's:
The alarm clock went off this morning at 8:30 a.m. and I immediately started the washing machine since we forgot to start it last night. Lexi needed her church clothes washed. Then I reset the alarm and went back to sleep thinking I would wake up at 9:30 a.m. and jump in the shower. Well, that never happened. When the alarm went off the heater was on. My body was warm, but my feet were freezing and my nose was running. I immediately grabbed the cold medicine and wrapped up in the blanket and fell back to sleep without thinking. Needless to say, Lexi's clothes never made it to the dryer. Arg! I was so looking forward to Sacrament Meeting with all of the Christmas music and the talks about Christ. I hate it when I miss that! Needless to say, when I finally got out of bed my nose had stopped running and I was not feeling as sick as I did before. Thank goodness! I do not want to get sick! In fact, I've even gone so far as to think about ways to prevent it, especially at work. I've decided to purchase a diffuser for my desk. Did you know they have battery operated ones or ones that plug into a USB port on your computer for about $10.00!! How cool is that???!!! In fact, the one I found will run intermittently, so I don't have to do anything other than make sure the essential oils are all ready to do. I've decided DoTerra is my brand of choice. In fact, they have one called On Guard and it is for immunity. Right up my alley, don't you think?? I still have a lot to learn about oils, and I don't totally trust that oils are all you need for health. They will NEVER replace the care of a doctor, but I do also recognize their healing properties. Shoot! I might just have to get a diffuser for my bedroom to fill with lavender at night. Love it!
Let's talk about Christmas.......
No matter how much or little we have, there is always room to share our abundance. One holiday tradition that I think everyone should participate in is giving to someone less fortunate. I don't mean just dropping some change in the bucket in front of the grocery store. Look for someone in need. They may need only a few moments of your time or energy, not necessarily a generous donation to their wallet. But, no matter what, find someone to give of your time, talents, energy or hard-earned cash to. Do it with a willing heart. Be creative. Give it serious thought and prayer before doing it. The blessings that come to you will be ten-fold!
I remember several years ago when we heard that a family wasn't going to have a Christmas tree that year. We went out and bought a tree at the local tree lot. It was not a huge tree because we didn't have much to give ourselves. We bought decorations and lights and delivered it all to their doorstep. We rang the bell and ran. It was a thrill for Kevin and I and our two kids at the time! Almost 25 years ago, and we have lost touch with that family now. They were touched and they never found out who delivered that tree. Pay it forward! What better time of the year?!
Blog Challenge: Do you take neighbor gifts/treats to anyone, everyone, or a select few?
Yes, most years we do take neighbor gifts/treats to a few families in the area, but this year we have decided that our budget really could not afford those. This isn't exactly my favorite choice, but it is what it is. I did take one gift to a friend. This person has dropped off cards and gifts several months in a row now. So, I downloaded my nativity files and made her a copy. I thought she could use it in Primary. This is what it looks like....
Cute, isn't it?? I wish I could have cut it all out and then had the pieces laminated for my friends, but I couldn't. I just hope she enjoyed it and put it to good use.
25 things I love about December:
1) My family!
2) Delicious Recipes!
3) Gatherings with friends
4) Cooler weather
5) Decorations!
6) Traditions!
7) The scents of the season!
8) Giving.
9) the Music!
10) The Presents
11) Neighbor treats
12) The crafts
13) Holiday breaks
14) The books and stories
15) Shopping
16) Snowmen
17) Caroling
18) Nativities
19) The small acts of kindness I see everywhere.
20) the Quotes & Messages
21) The lights!
22) Stockings
23) Counting down the days
24) The Spirit EVERYWHERE!
25) The reason for the Season.
One more thing....check these out!!!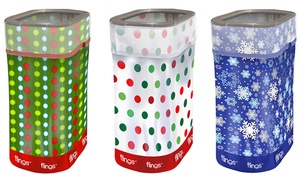 Last but certainly not least....check out these handy trash cans. I saw these and thought these would be great for our Christmas Eve get together. They come in all colors and styles. They could be left sitting in various spots. Then you can pull up the sleeves, and dispose of it. They come flat and when you fling them open it locks into place. Really, really cool, especially for functions. If you cannot find them they are available on Amazon!
I need to get going. I need to get some things ready for work tomorrow and get ready for bed. Take care friends and we will talk again soon.
From the Missionary:
Nothing from the missionary today. More next week.
Quote of the Day: